New type desktop WIFI GPS GSM 4G 5G cell phone jammer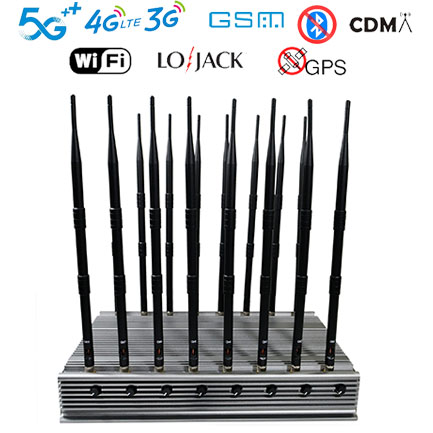 ---
The world's first powerful all-in-one WIFI-GPS UHF / VHF
signal jammer
for cellphone has 16 antennas, which gives us strong jamming ability. And not only can it cut off all 3G 4G cellphone signals, but also interfere with WiFi2.4G 5G CDMA450M GPS LOJACK UHF VHF signals. And with an adjustable high output of 90 watts, the interference radius of this device can be a maximum of 60 meters at the detailed point, depending on the signal strength. Built-in 7 fans work without interruption. LED indicator light shows the working status of each belt.
Customer's Reviews Of This Signal Jammer
It works! However, it gets extremely HOT to the point that if you touch it, you BURN your hand. Due to the excessive heat, the device inflated - but it still works well. It is used 5 days a week for at least 8 hours a day. I haven't had any problems so far!