A financial company installed a wifi jammer in the warehouse where the mortgage car was stored to protect the vehicle's GPS signal, and at the same time protected the signal of the base observation dock established by the Provincial Bureau of Surveying and mapping. Recently, the Technical Security Bureau of the Harbin National Security Bureau and the Harbin Radio Management Bureau jointly investigated and dealt with this case of illegally installing a vehicle positioning radio jammer, which prevented the country's important infrastructure to function.

Late last year, technicians from the Heilongjiang Measuring and Mapping Instrument Verification Station of the Provincial Bureau of Land Surveying, Mapping and Geographic Information found that a GPS signal could not be obtained. received near a national landmark in Wangha Village, Yushu Town, Daoli District, and verification work could not be carried out. After some time, repeated monitoring of the data from this base observation jetty failed to obtain a signal. In April this year, the verification station reported to the Harbin National Security Bureau, requesting technical support for the investigation of the signals.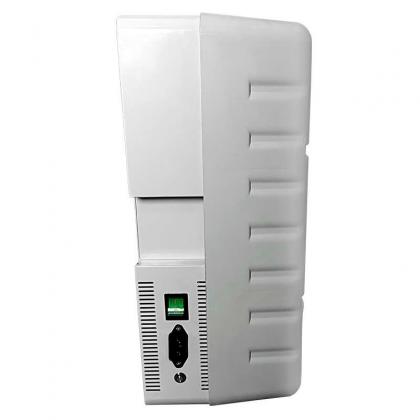 The Technical Security Bureau of the Harbin National Security Bureau visited Wangha village to investigate the source of interference at the end of April this year and found that the source of the signal interference was in a warehouse in Wangha village, less than 60 meters northeast of the base observation jetty. After determining that it was a civilian non-spy device, on May 4, the Harbin National Security Bureau and the Harbin Radio Management Bureau carried out law enforcement and the ban. Technicians discovered through direction-finding and positioning that the jammer had installed 5 jamming jammers for a financial company's mortgage vehicle warehouse, and the interference disappeared when the GPS jammers were turned off.
According to Liu, the warehouse manager, in October last year, the company rented the warehouse to place the mortgaged vehicles. The radio transmission equipment was provided by the company. I've heard people say that vehicle GPS signals can be blocked to prevent the theft of mortgaged vehicles. In the end, the Municipal Radio Management Bureau used the company to install and operate radio transmission equipment without authorization, which prevented the important national geographic coordinate control facilities from functioning normally, in violation of the regulations. relevant provisions of the "PRC Radio Management Regulations" and confiscate its radio interference equipment.
Since this year, the Municipal Radio Management Bureau has investigated and dealt with 5 cases of unauthorized installation and use of radio telephone jammers.