The signal jammer is specially designed for prisons. It has many advantages such as waterproof, lockable (if you fix it on a high wall), metal casing and wireless software control.
We know that although prisoners in prisons always receive education and are even ordered to give up their mobile phones, they always have ideas and ways to obtain mobile phones. Therefore, officials must take some direct and forceful measures to prohibit the use of mobile phones. Cell phone jammers are used for this.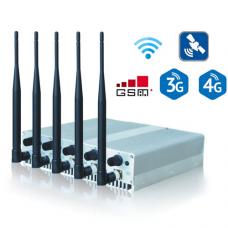 The prison shield has a metal shell for firm fixing on a high wall. The device should be much taller than a person to avoid being damaged by prisoners. The metal shell is lockable and the key is in the hands of the administrator. The administrator can turn on or off, switch the frequency, adjust the power of each channel through the wireless software, they don't have to climb up to manually operate...From the other side, the enclosure is waterproof and rainproof when working outdoors.
The waterproof prison jammer is suitable for mobile phone signal bandwidth: CDMA (851MHz-894MHz), GSM (925MHz-960MHz), DCS (1805MHz-1880MHz), PCS (1930MHz-1990MHz), 3G (2110MHz-2185MHz). The shielding radius ranges from 200 to 500 meters (based on the background signal strength <= -75 dBm), and every corner of the prison is filled with shielding signals. Frankly speaking, if you want a very ideal shielding effect, you'd better calculate the area of ​​the prison and install some low-power signal jammers in the corners away from the high-power waterproof signal jammers.