Signal jammer (also known as signal jammer / disconnector / suppressor / cutoff / isolator / confidential conference information machine) is our factory adopts foreign advanced technology, mainly for entrance examination to domestic college, adult college entrance examination, self-study examination and various In the college and university examination process, some criminals use mobile phones to cheat and at the same time combine the status quo of various middle and high school students using mobile phones to send random text messages during school hours, as well as various large, medium and small meeting rooms of government agencies and businesses The disturbance and noise caused by mobile phones in serious places such as music halls, theaters, etc. A high-tech product carefully developed according to the current situation of home mobile communication. It can be within a radius of 1-20 meters (50-250 square meters) Isolate GSM / DCS / CDMA / PHS / 3G (TD-SCDMA / CDMA2000 / WCDMA) / 4G mobile phone signals, 2.4 wireless signals G / 5.8GWIFI, and the transmission frequency bands of UHF400-470M, VHF136-167M walkie talkie, so that the mobile phone can not call and answer. The walkie talkie cannot work normally, but it will not interfere with the work of other electronic teaching equipment. The cell-phone and walkie-talkie can resume normal use after leaving the partition. Clean up the school and clean up the meeting.
Although phone jammers have great advantages, I hope you can use them properly so as not to interfere with the freedom of communication of others.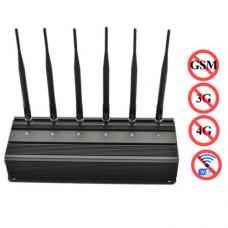 On June 14, the municipal office of Nanning No Control received an interference complaint from the City Mobile Company, which stated that two base stations in the urban area had been severely disrupted, preventing nearby cell phone users from communicating normally. and asking for interference. investigation. After receiving the interference complaint, the Nanning Control Bureau promptly organized law enforcement officers into the disturbed area on the morning of the 15th to in turn carry out investigative and law enforcement work. , and eventually identified the sources of interference in two warehouses far from Jiangnan. Xixiangtang District and District, Nanning City. Inside. Upon investigation and on-site verification, it was confirmed that the source of the interference was the cell phone signal jammer set by the mortgage company that rented the warehouse to interfere with the mortgage's GPS positioning system. in the warehouse. Law enforcement officials explained the relevant laws and regulations on radio management to relevant officials and issued a rectification notice ordering them to immediately end the interference. After realizing the dangers of private signal jammers, officials from the two companies involved actively cooperated to remove the jammers on site. After closing the wifi jammer, the interference signal was eliminated and the mobile phone company reported that the communication of the affected base station had returned to normal.