After years of state lobbying, correction officers tested a small cell phone jammer in a South Carolina prison this week.
The test was conducted over several days at the Broad River Correctional Institution of Maximum Safety in Columbia, South Carolina, according to Bryan Stirling, S. C. Dept. of Corrections Director.
Prison officials used the test to find out if micro-jamming technology could prevent inmates with contraband cell phones from communicating with them inside the prison walls without affecting cell phone service outside the prison.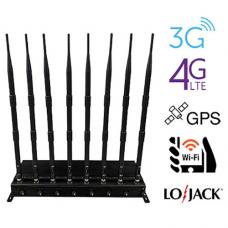 It was the first such collaboration between state and federal prison authorities. Stirling says he has been named deputy U.S. marshal so the collaboration can continue.
Two similar tests were recently conducted in a Maryland federal prison, according to a statement from FBP officials.
"There is no (prison) director in the country who does not want to jam," said Stirling on Friday.
Smuggled cell phones have been used to run criminal businesses, distribute child pornography and facilitate the commission of violent crimes - while inmates are incarcerated, federal prison officials said in a press release.
"The reason we need this is because cell phones are a threat to public safety in the hands of inmates," Stirling said. "Look no further than Lee Correctional's Captain Robert Johnson, who was shot multiple times in his home after a hit was ordered from prison."
The April 2018 deadly prison riot at the Lee Correctional Institution in South Carolina was also directly attributed by Stirling to smuggling cell phones.
Stirling says the final results of the tests are pending, but he is optimistic about the results.
Stirling already says the tests have shown that the jamming technology can be tuned so small that concerns about "bleedover" (cell phone signals outside the prison that are affected) have been eliminated.
According to Stirling, the tests could be reduced to individual residential units in the prison.