At present, the common mobile phone signal jammers on the market have effective frequencies: 869—894MHz; 825—960MHz; 1805—1880MHz and 1900—1990MHz, etc. The effective frequency bands are CDMA800, GSM900, DCS1800, and PCS1900. It can handle a range of 40 meters in diameter, using a DC-DC converter to insert the working voltage, and the output voltage of 9V.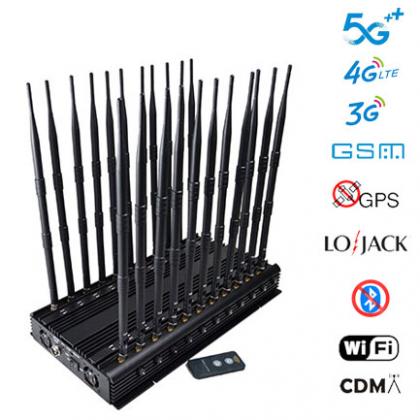 Method of operation
1. Select the area where the mobile phone data signal must be cut off, and place the cut-off device on the desktop or wall in this area.
2. After installation, turn on the power switch of the disconnector and turn on the main power switch.
3. After the equipment is connected, press and hold the main power switch to operate. At this time, all the mobile phones that were turned on on the spot were searching for the network, and the base station data signal was lost. It is difficult for both the host and the called to create a voice call contact.
Is the signal jammer harmful to the body?
The emergence of mobile phone signal jammers has a great inhibitory effect on the increasingly serious "mobile phone noise pollution". However, as a mobile communication technology interferes with machinery and equipment, whether the electromagnetic wave radiation caused by it will cause harm to health, It has also become a topic of concern to everyone. In addition, the mobile phone shields the machinery and equipment in the installation and application stage, because it also has a lot of subjectivity and blindness in the aspects of the number of installations, signal strength, covering methods, and radiation source manipulation. In the pursuit of perfection and reasonable interference and shielding, some venues maximize profits, and even blindly follow the trend to introduce high-power mobile phone interference to shield the installation of equipment applications. The harm and damage to the body must make people worry.
As another product of people's "cell phone jammer", it is masking mobile phone data signals to ensure network information security. In addition, it will undoubtedly have a great adverse effect. However, when people look at problems, they should see the basic contradictions. Just as people don't use fruit knives because they scratch their hands when cleaning bowls with fruit knives, people will not reject "mobile phone signal jammers" because they may cause poor radiation sources to the body. . After all, the "mobile phone signal jammer" ensures network information security and contributes to social stability as its key contribution. It is important to ensure the safety of places with high safety performance such as prison cells, detention centers, and major conferences.
As far as the quality of the mobile phone signal shielding system software is concerned, according to the current level of understanding, there will be no security risks.