With the release of these requirements, sales of anti-drone technology are also on the agenda. According to the U.S. Department of Defense, in January 2017, the U.S. Army awarded Syracuse Research Corporation a contract worth $65 million to develop, produce, and deliver 15 new anti-UAV systems to "meet joint emergency operations." Mission requirements in the acceleration phase". In July 2017, the U.S. Army awarded it another $16 million contract to develop on-board anti-UAV capabilities as part of the unit's work on "Mobile Small UAV Integrated Defense System Increment 1" and support Trials will be held in the near future to provide information on the requirements and government decisions for the deployment of numerous production systems. The company's DRS Land Systems Division is the main integrator of the contract and will work with Moog Defense and Space Group to combine its surveillance and battlefield reconnaissance equipment (SABRE) with the latter's "reconfigurable integrated weapons platform" (RIwP) The turret is integrated into two "Oshkosh" mine anti-ambush vehicles.
In May 2018, an Avnon Group spokesperson revealed that in 2017, its Skylock anti-UAV system had been sold to more than 30 customers worldwide, including the Air Force and the Ministry of Defense. Arvid Matez, CEO of Israel TAR Ideal Concept and Sales Director of Avnon Group, revealed that the customers of the system are all over West Africa, Southeast Asia and South America. Matez said at the European Defense Show that the "Lock in the Sky" system already has two customers in Asia by virtue of an integrated solution with hard-kill laser capabilities. One country ordered 9 mobile systems for air force bases and border protection, another country ordered 6 systems to protect the presidential motorcade and parliament, and a Latin American country also ordered two integrated systems.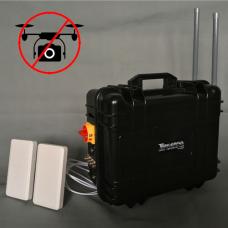 In June 2018, Australia-based DroneShield announced that the Ministry of Defense of a Middle East country has signed a procurement contract with it for 70 "drone jammer", valued at 3.2 million US dollars.
A series of anti-UAV technologies have been developed to counter UAV threats, including signal jamming, using nets to capture UAV groups, or using ammunition, rockets and lasers to damage UAVs. The type of anti-drone technology used depends on the specific situation. For example, shooting down drones in densely populated areas may be dangerous to civilians, so in this case, other options may be better choices.